NPR After The Water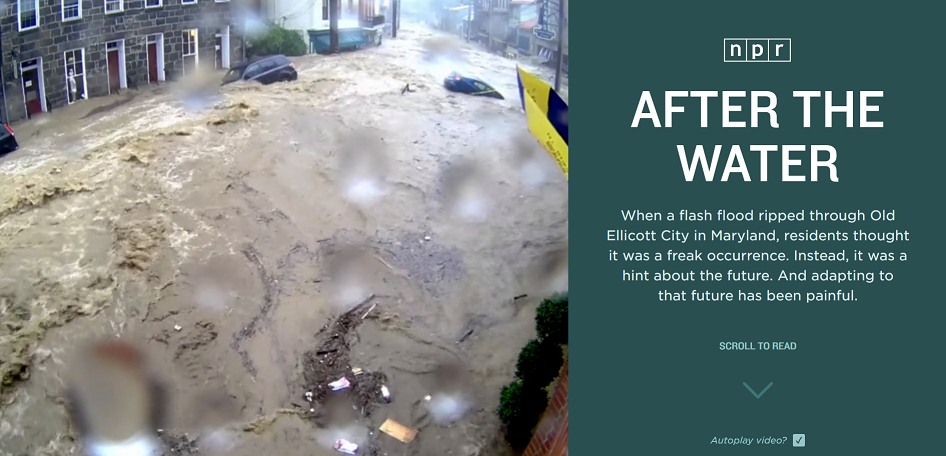 Experience the account of the historic Ellicot floods by NPR 
 Many staff here at NCAR work on forecasting and researching such catastrophes with the purpose of saving lives and property. This account provides the human element behind the purpose of our work. 
WRF-Hydro is part of the OTREC field Campaign! 
What hapens to all the precipitation after it rains?  And how can our model simulations be imporved by adding observational precipitation data?  We will be teaching a WRF-Hydro modeling system course in conjunction with the OTREC field campaign on the University of Costa Rica campus in San Jose 21-23 August. 
The OTREC field campaign is studying the deep convection in the ITCZ over Costa Rica. The NSF-sponsored Organization of Tropical East Pacific Convection (OTREC) field campaign began on  August 5th and is in full swing until September 30th, 2019. There are mulitple components to this campaign to gather measurements from both air and land.  Our involvement includes Dave Gochis providing a portable radiosonde unit expertise and 10 surface meteorological stations as well as 3 instructors to teach a WRF-Hydro Course to participants from multiple Central American countries from both academic and government entities. 
Read more about the field campaign at the following links: OTREC Press Release by University of Costa Rica, OTREC BLOG, EOL OTREC.
WRF-Hydro Training Materials for Costa Rica
WRF-Hydro v5.0 Used in AT&T Climate Resiliency Study
"The WRF-Hydro® (Version 5) was employed to simulate the entire hydrological cycle in watersheds across a region. The model used a range of inputs—from future climate variables (precipitation, temperature, humidity, wind, solar radiation) to topography and vegetation—to inform a physics-based model.With projected precipitation and other climate parameters as input across the region, WRF-Hydro® computes the extent of inland flooding that can be expected, as well as other characteristics such as depth of surface water accumulation, stream flow and flood duration."
"WRF-Hydro® (Version 5) simulated the water cycle to project the depth and extent of inland flooding for historical and mid-21st century timeframes. These mid-century results project increased surface water accumulations over 5% in inland and coastal regions in the southeastern U.S. under a business-as-usual emission scenario during warmer seasons (spring, summer, and fall). Extreme flood events are also projected to increase across the four priority states. For example, by mid-century, a 50-year flood event will produce flood waters up to 10 feet deep across inland and coastal areas of southeastern Georgia."