Bruce Carmichael - NCAR Explorer Series
Advanced Aviation Weather Technologies - Keeping Us Safe In the Sky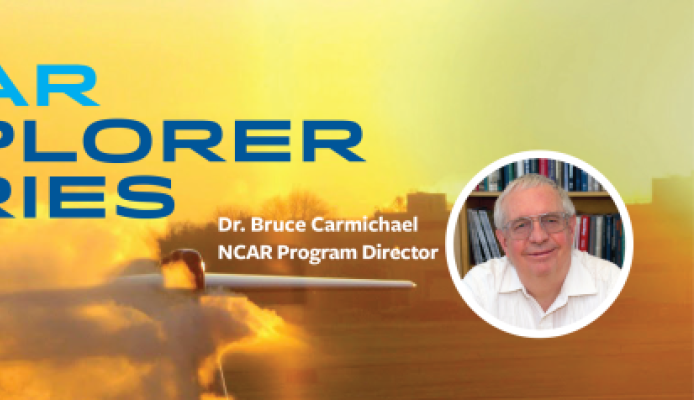 An estimated 70 percent of airline delays are due to weather costing billions of dollars each year. Two-thirds of these delays are thought to be avoidable. Higher resolution and more accurate weather information tools and technology developed by NCAR scientists help the aviation industry avoid delays and:
NCAR EXPLORER SERIES
Advanced Aviation Weather Technologies - 
Keeping Us Safe In the Sky
JOIN US
SATURDAY, APRIL 16
Science exhibit viewing: 3–4 p.m.
Talk: 4–5 p.m.
Q&A: 5–5:30 p.m.
WEDNESDAY, APRIL 20
Science exhibit viewing: 6–7 p.m.
Talk: 7–8 p.m.
Q&A: 8–8:30 p.m.
NCAR Mesa Lab
1850 Table Mesa Drive
Boulder, Colorado
Free public event for ages 12 +
Limited seating
Please order free tickets online
http://bit.ly/ncar-explorer
Accurately detect and predict thunderstorms, turbulence, icing, and winter weather
Maintain safety of air passengers
Save expensive fuel
Reduce greenhouse gas emissions
Better utilize the precious capacity of our airports and airspace
LECTURE DESCRIPTION
To keep flights safe, it's essential to give pilots and air traffic controllers accurate weather information. In this presentation Bruce will discuss aviation technologies that NCAR is working on that are keeping us safe in the sky. He will talk about how aviators deal with such hazards as thunderstorms, turbulence, icing, and winter weather. As the science and technology to detect and forecast these hazards improves, we are able to remain safe while being more efficient through the use of airspace that might previously have been avoided. Higher resolution, more accurate weather information allows us to avoid hazards without making as wide a berth of the events. From this we can maintain safety margins, save fuel, emit less greenhouse gas, and better utilize the precious capacity of our airports and airspace.
BRUCE CARMICHAEL | SHORT BIO
Dr. Carmichael serves as Program Director of the Aviation Applications Program at the National Center for Atmospheric Research (NCAR). This program is working to improve weather information for pilots, dispatchers, and controllers, particularly related to the hazards of thunderstorms, turbulence, icing, winter weather, and ceiling/visibility. He has also been involved in system engineering of improved FAA automation and weather systems. For the past 32 years he has been involved with the aviation industry in automation of maintenance processes, air traffic control, and weather information. His professional life includes 43 years of experience spanning a number of activities including university teaching, commercial research, government service, consulting, and academic research.
Dr. Bruce Carmichael

He has served on the JPDO Weather IPT as the Co-lead of the Forecasting Group, the FAA Research, Engineering, and Development Advisory Committee ATM/Weather Integration Study Group, and currently serves as chairman of the NBAA Weather Committee and a member of the RTCA Task Force on Midterm NextGen Implementation. For the past eleven years he has coordinated the Friends/Partners in Aviation Weather activity, a grass roots government/industry group which brings together the weather provider community and diverse user community to discuss topics of common interest. He holds a B.S. from the University of New Mexico in Mathematics, an M.S. from Northwestern University in Applied Mathematics and a Ph.D. from the University of Maryland in Computer Science. Dr. Carmichael is also an active commercial instrument-rated pilot with over 34 years of flight experience.
Bruce Carmichael UCAR Staff Page
EVENT DETAILS
Saturday, April 16, 2016 NCAR Mesa Lab
3:00 - 4:00 p.m. Exhibit viewing in Mesa Lab lobby (staff will be on hand to answer questions)
4:00 - 5:00 p.m. Talk
5:00 - 5:30 p.m. Questions & conversations
Wednesday, April 20, 2016 NCAR Mesa Lab
6:00 - 7:00 p.m. Exhibit viewing in Mesa Lab lobby (staff will be on hand to answer questions)
7:00 - 8:00 p.m. Talk
8:00 - 8:30 p.m. Questions & conversations
Seating and Reservations
The NCAR Explorer Series is free, however seating is limited to 100 attendees. In order to ensure a seat in the lecture hall, please obtain a free ticket at eventbrite.com.
Live Webcast on April 20 at 7 p.m. MT
6 p.m. PT, 8 p.m. CT, 9 p.m. ET
To view the live webcast, go to ucarconnect.ucar.edu/live and click on the NCAR Explorer Series listed in the calendar of events on the site.
Tweet your questions with hashtag #NCARexplorers to @UCARConnect during the live event; we will get to as many questions as we can during the Q&A and answer many more on Twitter.