Oceanic/Remote Weather

Developing Short-Term Forecast Products of Convective Storms Over Oceanic Regions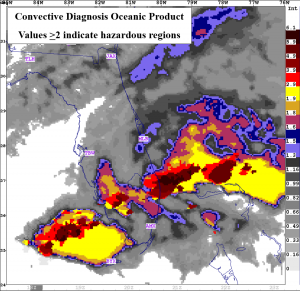 Remote, oceanic regions have severely limited data availability and, therefore, have few, if any, high resolution weather products that indicate current or future locations of convection.
Convective hazards impact the safety, efficiency and economic viability of oceanic aircraft operations by producing turbulence, icing and lightning, and by necessitating aircraft rerouting while inflight, leading to higher fuel costs and delays.
To improve convective products for the oceanic aviation community, the Oceanic Convection Diagnosis and Nowcasting project is focused on developing short–term detection and forecast products of convective storms over oceanic regions. Resulting products focus on the needs of pilots, dispatchers, air traffic managers and forecasters within the oceanic aviation community.
Two products are of particular value to transoceanic aviation:
Cloud Top Height (CTH)

Convective Diagnosis Oceanic (CDO)
The CTH is computed using data from geostationary satellites and global numerical model results and depicts the flight altitude of the cloud tops. The CDO is computed using a weighted combination of several inputs derived from satellite-based detection algorithms and global lightning strikes and detects the regions of convective hazards. The CTH and the CDO are used together to fully characterize cloud structure and intensity. Predictions of convection location and intensity are realized by a combination of previous storm history and model steering flow.