GOV. RITTER: THE INTERSECTION OF CLEAN ENERGY POLICY AND SCIENCE
Former governor visits NCAR to meet with scientists, give community talk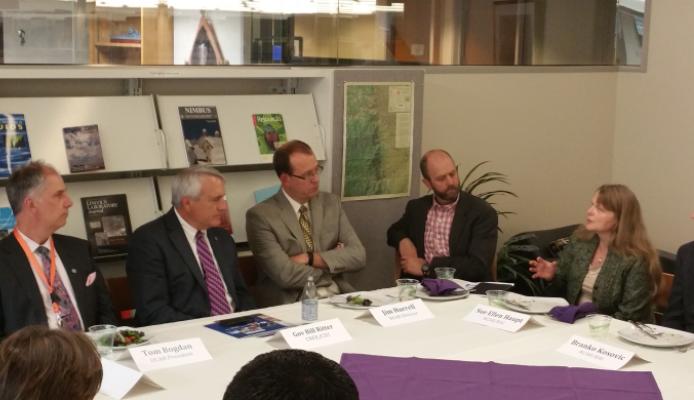 AtmosNews April 10, 2015 | Former Colorado Gov. Bill Ritter visited the Foothills Lab this week to talk with researchers about what science would be most useful for policymakers who make decisions about clean energy issues.
At a lunchtime discussion, Ritter met with scientists from NCAR's Research Applications Laboratory and other Boulder-area labs to discuss their work on solar and wind forecasting, among other areas.
"The contributions that atmospheric scientists have made to understanding how to forecast wind have made a tremendous difference in the cost of wind," Ritter said during a talk later in the day that was attended by scientists from across the Front Range. "Policymakers care about cost."
During Ritter's four years as governor, he signed 57 bills into law that touched on the development of a clean energy economy and the state's voter-approved renewable energy standard was increased from 10 percent by 2020 to 30 percent.
<p>When Ritter left office in 2011, he founded the privately funded Center for the New Energy Economy (CNEE) at Colorado State University, where he works with state policymakers across the country to help them tackle emissions reductions.
In his talk, Ritter outlined the progress states have made on their own to increase renewable energy. Ritter pointed out that the federal government has no renewable energy standard, but about 220 million Americans still live in states where renewable energy standards exist.
Ritter also praised the work of the atmospheric and environmental science community.
"If you're a scientist, and you're working on this, and you're passionate about this, then I'm congratulating you," he said. "It's a great way to live out your professional life and to be alive doing something meaningful for people around the globe."