Lightning Impacts on Aviation
Balancing Safety and Efficiency in a Complex System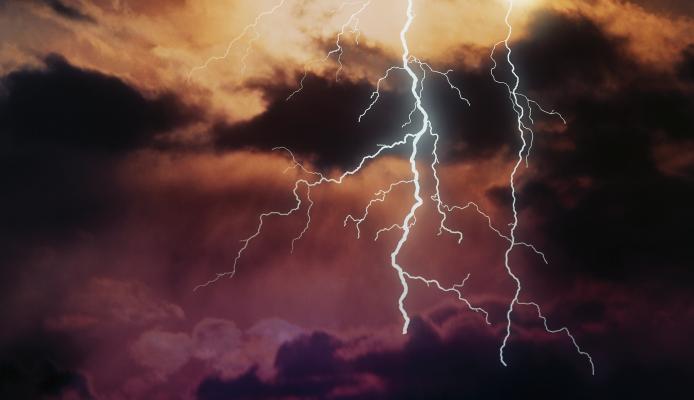 Summer travel means vacation, sun, surf and…sometimes delayed flights and long wait times for your luggage. Welcome to the complex world of aviation and its sensitivity to the vagaries and challenges of weather.
Thunderstorms, and especially lightning, pose a safety risk to airline and airport personnel who service gate-side parked aircraft and maintain airport grounds.  Major airports and airlines employ procedures to ensure the safety of their outdoor workers.  When lightning impacts an airport, these safety procedures trigger ramp closures to suspend outdoor work and bring baggage handlers, airplane fuel and food suppliers, mechanics and other logistics and maintenance personnel inside for protection.  Ramp closures cause unwanted, expensive downtimes and delays, yet the current decision-making process for closing and reopening a ramp is burdened with notable uncertainties. 
NCAR has conducted a study, supported by the Federal Aviation Administration (FAA), to better understand the challenges associated with airport and airline operations under thunderstorm and lightning impacts and to identify opportunities for minimizing avoidable impacts through improved guidance. 
NCAR's analyses have determined that lightning-induced ramp closures cause notable air traffic impacts on both departures and arrivals (see figure).  The research has shown that the ramp closure decision-making process is burdened with a number of significant uncertainties related to the lightning data, the safety procedures and effectiveness of implementing them. 
The current approach to lightning safety is reactive, and is based on the reliance of lightning observations.  And the observations were found to exhibit their own share of marked uncertainty related to the measurement technique, network detection efficiency, and subsequent data processing.  In addition, observing operators on site revealed that the implementation of the safety procedures is affected by human cognition and behavior, often producing delayed or inconsistent ramp closures that can yield avoidable safety risks for outdoor personnel and operational inefficiencies.  These uncertainties have implications on personnel safety and operational efficiency. 
NCAR's research is focused on improved characterization of the true lightning hazard by combining multiple sources of relevant information (e.g., radar and lightning data from more than one source) for a robust diagnosis of lightning threats.  Moreover, a Nowcasting product has been developed that provides lead times of approximately 5 – 15 min before lightning occurs. Such a capability to alert of impending lightning impacts is of particular interest not only to airports, but for outdoor venues (e.g., baseball parks, swimming pools) and special events (e.g., Olympics), construction and open-air mining sites, utilities (e.g., energy, electricity transmission), recreation (e.g., hiking, camping, boating), Army test and evaluation command ranges, and many more.
For More Information, contact:
[staffdir:person:msteiner]