Staff Profile: Rajesh Kumar
A Recognized Expert on Air Quality Topics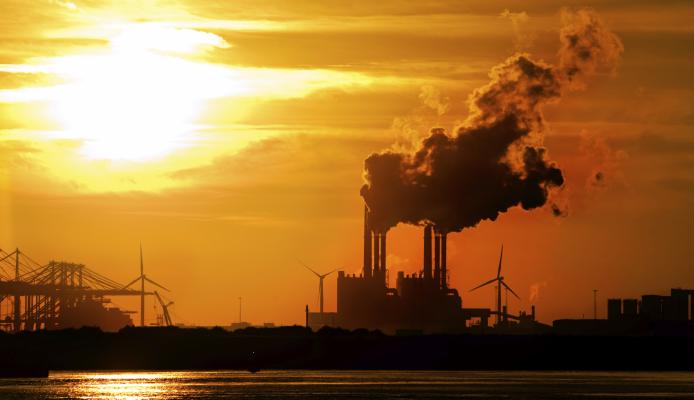 He lives in Boulder, but his heart resides in India. If you're walking by his office, you may even hear the faint sound of Bollywood music. There sits Rajesh Kumar, Project Scientist in the National Security Applications Program, tapping his toes to the music while intently tapping his keyboard. He has work to do, like understanding how air pollution is affecting monsoons in his first home, India, how ground-level ozone's effect on agriculture and human health in the South Asia, and how can we protect public health from air pollution problems in developing nations.
But that's not all he focuses on. Rajesh is a recognized expert on a range of air quality topics including analysis of in-situ and satellite products, emission estimates, source attribution, aerosol and dust modeling, chemistry climate simulations, air quality forecasting, and chemical data assimilation.
His current work in NSAP contributes to the U.S. National Air Quality Forecasting Capability (NAQFC), to improve short-term (0-48 hours) air quality prediction for NOAA. This system, using NASA satellite data, provides the nation with ozone, particulate matter and other pollutant forecasts with enough accuracy and advance notice to take action to prevent or reduce adverse effects. He just completed year one of a two-year testing of the system with the third year transitioning the system to NOAA. This work has potential to be grown into an international network of similar air quality systems.
But if that isn't enough to keep him busy, he's very excited and hopeful about an upcoming collaboration with the NASA and the Indian government in trying to understand how aerosol particles affect India's monsoons. India's monsoons are an important main source of water for agriculture. Fifty percent of the Indian workforce is in some way involved in agriculture, which contributes 15 percent of the total GDP in India.
"Exposure to air pollution is dangerous to human health, and, poor air quality directly effects vegetation," he said. "Poor air quality in the U.S. results in approximately 60,000 premature deaths and costs $100-150B/year. Although it is difficult to quantify the benefits of accurate air quality predictions yet if such predictions can reduce premature deaths and associated costs by just one percent, 600 lives could be saved and $1B saved per year."
Rajesh is the first scientist in the Kumar family. He has a Bachelor of Science from I.B. College, Panipat, and Master of Science in Physics from Kurukshetra University in India. For his Ph.D. degree, he had the choice between studying astronomy or atmospheric sciences, and he chose the latter. "I asked myself, what can I do to directly help society and see results in my lifetime?" He witnessed the problem of air pollution and climate change, its direct effect on his country, and knew his calling was in air quality. He went on to receive his Ph.D. in Earth Sciences (magna cum laude, no less) from the University of Hamburg in Germany.
Not one to rest on his laurels, this rising star was invited to present at last year's Mario J. Molina Symposium at AMS. He presented results on how future air quality will change in South Asia due to changes in climate and human activities (Recorded session here). 
Marcel Proust, the French essayist and novelist, believed that in answering particular questions, an individual can reveal his or her true nature. Here are Rajesh's answers to the modified Proust Questionnaire (in italics):
What is your idea of perfect happiness? My family.
Which living person do you most admire? Indian Prime Minister Narendra Modi who has devoted his entire life to India. He works 12-hour days and hasn't even taken a vacation for two years.  He is a very progressive thinker and he believes climate change is real. One of his policies was to cut India's carbon budget by 2020.
What is a trait you most deplore about yourself? Sometimes I'm too focused on my work and don't give sufficient time for family. I need to improve my work-life balance.
Which talent would you most like to have? I would like to know how to play the piano. I like to sing and perform, even. I am an extrovert; I love to talk to people and even sing a solo in front of an audience.
If you could change one thing about yourself, what would it be? I would like to be able to take a long vacation and enjoy it.
What's your favorite movie? I love Bollywood movies! Two of my favorites are "Rang de Basanti" and "Swades."
In his free time, Rajesh likes to watch cricket, play table tennis, listen to music, and spend as much time as he can with his beautiful wife Pinki and their 2-year-old son Ansh.