Optimized Flight Operations
RAL Technology adopted in new Lufthansa weather display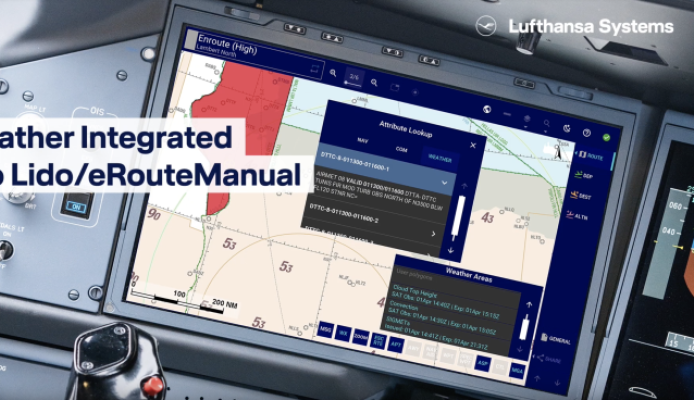 RAL's Weather Data Expertise in Action
RAL began this work as the Global Weather Hazard (GWH) project in 2015 with a partnership between Lufthansa Airlines, Basic Commerce & Industries, Inc. (BCI), NCAR and the Weather Solutions Division of the Sutron Corporation. This project is a commercial effort that has expanded coverage to a global domain with latitude limits of -50S to 70N. Display of both the CTH and the CDO products are shown on the LIDO eRM's of Lufthansa Airlines B747-8 aircraft and the Brussels Airlines fleet. About 50 aircraft currently receive the two products.
Inflight display of products depicting convective hazards are critical to pilots of transoceanic aircraft to assist with strategic route planning during long flights of up to ~17 hr. Such displays enable pilots to see potential convective hazards along the entire flight route, beyond the range of the onboard radar, and to reference the products while planning for future avoidance maneuvers.
Read more about our research here.
----------
RAL Technology adopted in new Lufthansa weather display
By Asian Aviation | May 3, 2019 PM
Lufthansa Systems today announced the integration of the new feature with the name "Weather" in its Lido/eRouteManual navigation solution. Weather phenomena can now be downloaded and displayed on enroute navigation maps without needing to install additional software. Text-based weather information is also available for every airport. With the introduction of the new Version 5.0 of Lido/eRouteManual, this weather data is just a few clicks away.
"Relevant meteorological information is in high demand among airlines, including our customers. Hardly anything has more negative effects on flight operations than the weather. Together with our customer Lufthansa, we developed the Weather feature to display current weather data on our maps," explained Dr. Bernd Jurisch, Head of Flight & Navigation Products & Solutions at Lufthansa Systems. "The updated Version 5.0 of Lido/eRouteManual seamlessly integrates the new feature. The smart and reliable Weather feature enables pilots to access the necessary weather information more quickly and choose the best route based on the weather conditions."