9th NOAA Ensemble Users Workshop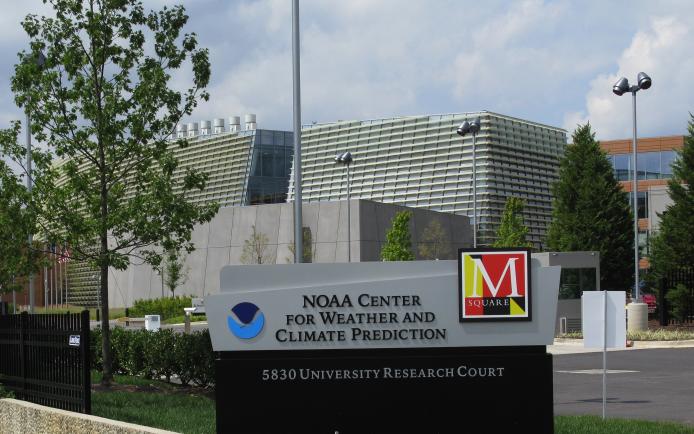 Aug. 21 to Aug. 25, 2023
8:00 am – 5:00 pm MDT
Location: National Center for Weather and Climate Prediction (NCWCP) at College Park, MD USA 5830 University Research Court, College Park, MD 20740 This will be held for 3 days the week of August 21, the site will be updated as soon as the dates are determined.
Main content
The workshop's central theme is to support the NOAA's mission "To understand and predict changes in climate, weather, ocean and coasts" and the NWS in its transition from deterministic to ensemble-based probabilistic forecasting and to convey forecast uncertainty to users in a manner that optimizes the utility of the information. The workshop will focus on a review of current NCEP ensemble forecast systems, with an emphasis on the users and applications, ranging from prediction of regional weather with a few days lead time to large-scale phenomena with seasonal time scales. A complementary focus will be on working through our stakeholders, communities and public users to support the NWS mission of providing weather, water, and climate data, forecasts and warnings for the protection of life and property and the enhancement of the national economy. There will also be an introduction and discussions on the development of all ensemble systems that utilize the NOAA Unified Forecast System (UFS) fully coupled to ocean, ice, wave and aerosol. The plan will fully consider user requirements and gather community inputs into the future UFS context.
The workshop is organized by the NCEP Environmental Modeling Center (EMC) whose goal is to facilitate the future testing and transition of newly developed methods into operations, with support from the Office of Science and Technology Integration (OSTI) of NWS; Oceanic and Atmospheric Research (OAR) Weather Program Office (WPO), Physical System Laboratory (PSL) and Global System Laboratory (GSL); and National Center of Atmospheric Research (NCAR) Research Application Laboratory (RAL) and Developmental Tesbed Center (DTC).
Important dates:
Date to open/accept abstract submission - TBD
Date for abstract/presentation status notification - TBD
Date to open/accept the online registration - TBD
Local hotel information - TBD
References:
Organizing committee:
Yuejian Zhu (NWS/NCEP/EMC; Lead)
Geoff Manikin (NWS/NCEP/EMC)
Jacob Carley (NWS/NCEP/EMC)
Hui-Ya Chang (NWS/NCEP/EMC)
Phillp Pegion (OAR/PSL)
Curtis Alexander (OAR/GSL)
Jeff Beck (CSU/CIRA at OAR/GSL and DTC)
Will Mayfield (NCAR and DTC)
Mark Olsen (OAR/WPO)
Yan Xue (NWS/OSTI)
Paul Kucera (NCAR/RAL)
Jenny Bolton (NCAR/RAL)
Contact
Please direct questions/comments about this page to: